Archive Page 2

John Thorpe from Eden Custom Kitchens has been working pretty hard over the last few weeks putting together cabinet carcases. You might remember that we were able to get support from Polytec who agreed to help us with all of the cupboard doors and panel, Hafele supported us with all of the hardware and fitting that were needed to make the kitchens really, really friendly for people with access issues and Marble and Ceramic Corporation were supplying all of the kitchen bench tops which are made of Pietra Grey Honed Limestone which is imported from travertine quarries in Iran.
Here is a photo of the Iranian quarry and the type of limestone that they cut from the landscape. It is called Pietra Grey.
What we need to do is for John from Eden Custom Kitchens to cut a set of templates that we will send to Sydney and have the Pietra Grey Limestone benchtops cut to the exact size. So we will have the kitchen almost fully installed prior to the benchtops going into place. Here is where we are up to in the kitchen cabinet installation.
 We had saved the stainless steel sinks for the old kitchens. (These were nice Italian jobs with very little wear.) However true to form they will not fit in the spaces that we have available. (Anyone want to buy 2 pre-owned Italian sinks?) As Dorf are one of our partners I went through the Clark website and elected to use their Quatro range which have exactly the sizes that we need. Check out the photo below.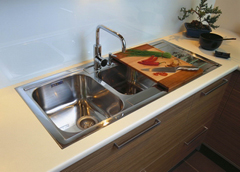 Features such as the barely there edge resulted in Quatro being commended for excellence in design by Standards Australia with a DesignMark at the 2004 Australian Design Awards. You would think that a sink is a sink, but apparently not so. What I like about this model is that it has a laser-cut edge which means there is less places for dirt and grime to accumulate.

There is no doubt that the kitchen is normally the hub of the house. For this reason we spent a lot of time (and money) on ensuring that the kitchens of Bimbadeen were workable by able bodied people and people with disabilities. The general principal that we adopted was that "stuff should come to us, not us go to the stuff".  This meant that the kitchen design incorporated:
Lots of drawers.
Pull out wire baskets.
Pull out or wheel in pantries.
Pull out towel rails.
Pull out garbage bins.
Even fold out ironing boards.
There was one company that stood out from the rest in providing all of these types of kitchen fittings. The company is Hafele . The origin of the company is Germany and they have a division here in Australia. I must say that I have never seen such a comprehensive range of cabinet making fittings and accessories. The catalogue of fittings available here in Australia is over 1,400 pages thick. They seem to fabricate almost anything that you could think of for making life easier in the kitchen.

We have included in the design  fold out ironing boards in both kitchens.
 All the drawers are steel construction which means that they can survive pretty tough use and also have super smooth runners and gentle close functions.
 We have installed carousel units in the corners so that stuff at the back can come to the front easily.Even the towel racks and garbage bins will come to you rather than you going to them.
You can download the plans and perspectives of all of the kitchens drawn up by our architect Harry Sprintz by clicking on the links below.
Kitchen Plans Upper Level
Kitchen Plans Upper Level Elevations
Kitchen Plans Ground Level
Kitchen Plans Ground Level Elevations



We have been back in contact with our friends at Boral to work out how to do the landscaping in the front and rear yards. As we are on the top of the hill we have a fall away in all directions. This amounts to between 2.5 – 3 metres at its maximum. Obviously this is not an ideal situation for use with a wheel chair.
John Bennett our builder has come up with a pretty clever switchback terrace system.
This will have a couple of benefits
The need for fill will be drastically reduced.
There will be no slope more than 1 in 14 (This is a Universal Design standard)
Soil retention on the sides will be reduced.
 So to complete this plan we will need 1440 of Boral's keystone retaining wall blocks, 360 capping stones and 204 square metres of paving. Check out more photos in week 42's photo gallery .
The Keystone Retaining Wall System is a world-wide success story, and since its introduction by Boral into Australia in 1992, hundreds of thousands of square metres have been installed along our highways, roads and transport corridors, and around our sports facilities, buildings, foreshores and open spaces. Boral Keystone retaining wall systems combine proven engineering capabilities with design versatility, cost effectiveness, lasting durability and an attractive dynamic appearance to provide total solutions for retained earth structures.


When we were looking around for internal doors we had a few criteria that they needed to meet.
They needed to be solid so that they gave us some sound insulation.
We needed to be able to install locks on all doors if required with our own door furniture.
The finish on the doors needed to be resilient so it could take the occasional hit from a wheel chair.
We settled on a German product called "Prum" which is distributed in Australia by a company called Euro-Tec Doors .
Designed as a fully pre-fabricated rebated door and door-frame system, Euro-Tec doors are fitted with an all round rubber seal providing increased acoustic properties with anti-slam protection. What attracted us most was the finish that the commercial range use which is  something called CPL. Here is the blurb about CPL form the German website.
 When durability is the order of the day, doors must have plenty of mettle without this being obvious. Whether in a private rented apartment or at business premises – you can rest assured that even the toughest wear and tear will scarcely leave a mark on CPL. And finally, the new CPL surfaces are not just amazingly scratch, knock and tear-resistant, they are also completely dirt-proof and resistant to normal household detergents. In addition to this durability, modern printing methods lend a unique decorative quality to the veneers, which are barely distinguishable from their natural counterparts.
It took John Bennett and the team a couple of installs to get the process down pat but as soon as this was done the doors went in smoothly. Check out the photos below.
In the right hand photo you can see the clamps in place that are required until the hi-tech adhesive that is used in the installation cures. I reckon that the colour that we chose goes really well with the bamboo flooring.

Now that all of the travertine marble tiling has been completed in the bathrooms we can start to install the Dorf tap fittings and the Caroma toilet cisterns.
We have used the Dorf Orbit 5 shower system throughout Bimbadeen. We chose these as they provided both a fixed head and hand held shower in the one unit. We matched these up with Dorf Eclipse shower mixing taps . These were chosen as they are easy to operate for people who have dexterity issues.
We have chosen the Caroma Geo toilet pan for the main bathroom upstairs. This has a concealed cistern and fits flush to the wall which will help with the cleaning. In all the other bathrooms we are using the Caroma Trident pan and cistern. This incorporates a new Smartflush technology which saves water.
You can see in the following photos how it is all coming together.
 You can also see in the above photos how the toilets work with the Altro Safety flooring and the Stormtech drains.
You can see more photos from last weeks work by clicking here to enter the photo gallery .

As I work in the electronics industry in my day job, yes that's right this is only my night job, I have tried to include a lot of future proofing into Bimbadeen (our new name) This includes
Every room has access to a category 5 data network.
There is a pretty serious computer server cabinet in the entrance foyer.
The phone system is based on VoIp.
Every living area has ceiling speakers installed so we can have music everywhere without the associated wires.
The front and back gardens have a lighting and watering network installed.
There is provision to hook up a satellite TV feed.
There are power points everywhere, including on the exterior decks.
Here are some photos of the path we have taken to get Bimbadeen to be on the bleeding edge of connectivity.
In terms of lighting control we have worked with Dynalite who are one of Australia's leading home automation companies. The objective was to have a system where you could have a high degree of control of all of the household lighting from either the switch on the wall or with a remote control. This will mean that you do not have to walk to the light controls to turn on and off any of the lights. It can be easily done from a wheelchair for example.
You can achieve this either using infra red or radio frequency control. For budget reasons we elected to use I.R. What this did mean however was that I needed to plan the rooms so that there was a line of site to an I.R receiver in all parts of the house. Dynalite have a switch where you can install an infra red receiver window on each plate.
The first phase of installing a home automation lighting system is to work out the specification. Dynalite provided me with a checklist to help with this process. You can download this checklist here.
Dynalite Functionality Checklist
I used this as a guide to work out what I wanted all of the switching to do room by room. Here is the  listing for what each switch will do in each room. I have also included a key to where each switch is located.
Dynalite Switching Specification
Switch plan Ground
Switch Plan Upper
What happens now is that the team from Dynalite program the control units prior to them being installed by the electrician on site. Lets hope that it all works out OK.


We have now fully installed the Altro Safety Flooring in all of the wet areas of the project. The Altro comes in 2 metre wide rolls and is cut and ultrasonic welded on site. The result is a tailor made "tub" that fits exactly area that is being covered. We used a number of Stormtech gutter drains that are clamped onto the Altro to ensure that no water permeates the floor.
 The above photos show how the floor was prepared prior to the Altro being laid. A lot of work went into making sure that the surface was even and had the correct falls towards the Stormtech drains. Then the moisture content was then measured to ensure it was right for the Altro application.
You can see a couple of subtle Universal Design features in the above photographs.
Check out the plinth in the laundry where the washer and dryer will be placed. This lifts it 200mm above the floor for easier access. And of course they go side by side instead of on top of each other.
In the left photograph you can see that the interface between the Altro Safety Floor and the Style Plantation Bamboo floor is completely even. No sills or thresholds.
You can also get a good idea of the way the Stormtech drains are mounted. This has enabled a one-way fall in all of the showers so that shower chairs will sit stable.
You can see more and bigger photos in week 39 in the photo gallery. Just click here.
For months Desiree and I have been researching names for our project. We have printed out reams of suggestions and finally I think that we have come to a concensus.
Bimbadeen
This is an Australian Aboriginal word that means good views. There does not seem to be any other tourist accommodations called Bimbadeen in the South Coast of New South Wales. I am trying to find a word to associate with Bimbadeen so that we can register the name. Any suggestions?

The renderers have been in for a week now and have made some terrific progress. It looks like the job might finish sooner than the three weeks that they allowed. According to the other tradies on the site they are the cleanest renderers they have ever seen. Normally these are render splashes everywhere, but on our job not one splash yet.
They have started on the upper level which has the Hebel Powerpanel as the cladding. There is a special preparation for the Hebel called Acratex Hebel Skimcoat . This is a mortar looking compound with some fibrous additive. I guess that the Hebel must have a different expansion and contraction profile than normal blockwork. This would account for the fibres, they must help prevent cracking of the render.
In the first week the rendering team did all of the Acratex Hebel Skimcoating and priming. They started to apply the Acratex Tuscony fine texture coat to the tricky bits and will spend next week doing the application of the texture coat on the main surfaces upstairs. The final Acrashield protection coat will be applied by the painter as it is a roll on application rather than trowel on.
Towards the end of next week the team should be onto the lower level which means we can ditch the scaffolding that has cost the equivalent of the GDP of a small European country.
Check out more photos in the gallery under week 38. Or just click here.

Over the last 2 weeks we have had a few ups and downs. As we are building in a rural location sometimes getting tradesmen can be tough. This was particularly so with getting renderers. It took us weeks to get a renderer lined up then on the day he was supposed to start he pulled out. We then had to go through the process all over again, and guess what exactly the same thing happened with the second renderer. We finally hit gold with the third team. This however put us about 3 weeks behind schedule. The frustrating thing is that we can't pull the scaffolding down until we get the rendering done and while the scaffolding is up we cannot get equipment access to the rear yard to start the landscaping work. One thing leads to another – ouch.
Our third team of renderers has now started and I must say everyone is impressed with their work.  We are using the Dulux Acratex system for the finish. This consists of the following:
Dulux Acratex Hebel Skimcoat – This prepares the Hebel for a texture coat application.
Dulux Acratex Renderwall – This can be applied to the Boral blocks.
Dulux Acraprime – This prepares the surface for the texture coat.
Dulux Acratex Tuscony Fine – This is the texture coat it is tinted to a colour called Balleek.
Dulux Acrashield – This is a final protection coat. It is also tinted to Balleek.
Click on the links to download the data sheets.
I have posted a heap of new photos in the photo gallery under week 38 . Check out the progress