Making domestic housing more accessible.
So what made Masterlift our choice of an elevator for the project?
A big part of the cost of a lift is the installation. Particularly the lift shaft. Where Masterlifts beats the competition is that the Eco Hydro lift comes with its self supporting lift shaft. So when it comes to installation, the lift and shaft are simply craned into position.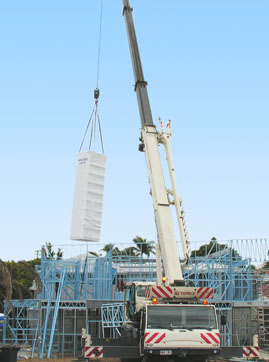 The lift is fully automatic making it easy for all to use with all buttons, switches and electrical controls of commercial elevator standards to provide a long trouble-free service life.
Even in the event of power failure the emergency battery backup will allow you to lower the lift and exit safely.  The passenger car has a carrying capacity of 250 kg and is a generous 900 mm x 1300 mm making it large enough for up to three people or a person in a wheelchair.  The Eco Hydro lift will fit almost any home requiring only a total floor area of 1430 mm wide x 1550 mm deep.
To read more about the Advantage lift or to see the other elevator options from Masterlifts go to their site by clicking here.