Power tracks that almost eliminate cords.

The innovative track  system allows you to add, remove and reposition power outlets anytime anywhere – by just a simple twist.

 The track can be purchased in various standard lengths with a maximum length of 3.6 metres. What this means is that with clever positioning you can almost eliminate trailing cords. Check out this kitchen installation.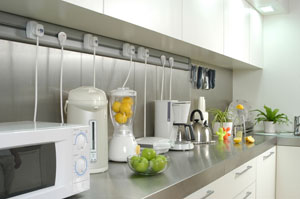 We will be using the Eubiq system throughout the project.
For more information on the Eubiq system visit their website by clicking here.