Now that we have all of the structural work finished and we are on site, I can start to concentrate on the outdoor site works. This means the garden and surround. I have struck up friendship with Alan from Woodlands Nursery in Merimbula which is walking distance from Bimbadeen. I will be using Alan for advice and to supply all of the plants that we will need for the garden.
We have also put a lot of though into the layout and landscaping of the block. We want to achieve a number of things.
Have the entire block accessible by wheel chair.
Create a garden that attracts native birds and marsupials.
Have a vegetable garden to help with self sufficiency.
Retain all of our magnificent views.
Making the gardens accessible by wheel chair was quite a feat for the landscapers. The rear of the block falls away about 3 metres from the back of the house to the boundary. I do think that they have achieved this, check out the terracing in the picture below.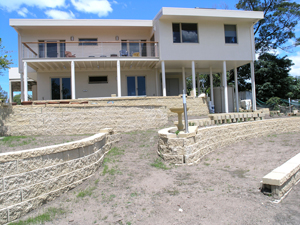 All of the pathways are less than a 1 in 14 slope which is in keeping with access standards and we will plant them with a local grass that is very hardy and gives a firm surface to wheel across. You will also be able to touch the plants from wheel chair height.
To attract birds and marsupials (we border onto the bush) we needed to focus on native Australian plants. Using Alan from Woodlands Nursery and a bit of research here are some of the species that we will be putting into the garden.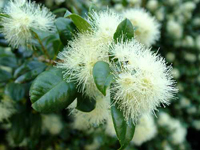 Acmena Smithii
These are commonly known in Australia as Lily Pily they have unusual flowers and both bird and marsupial attracting berries. We will plant these on the back border so that the wallabies and kangaroos can get good access.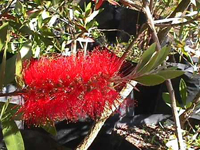 Callistemon Endevour
These are commonly referred to as bottle brush plants. The endevour is a brand name for the citrinus strain and has striking red flowers. This will attract the nectar feeding birds.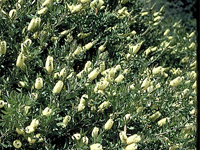 Callistemon Pallidus
The lemon bottle brush is also planted for the nectar feeding birds. It grows to about 5 metres high but we will keep it trimmed to retain our views.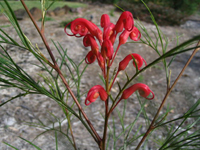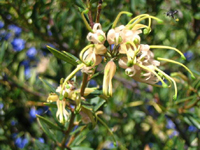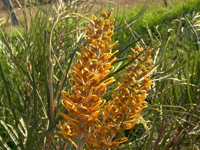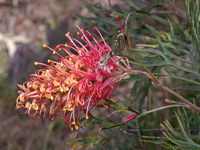 Grevilleas
Grevilleas are probably the best plants for attracting nectar eating birds. So we have planted a pretty diverse range as you can see from the above photos. These should all grow into a hedge that we will keep at about 1.5-2.0 metres high. We have also used a prostrate version (Grevillea Gaudi Chaudi) for some ground cover in the front yard to avoid planting too much water loving lawn.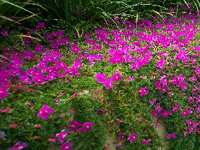 Mesembyanthemum (Pigface)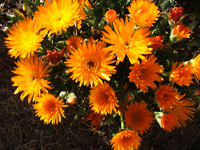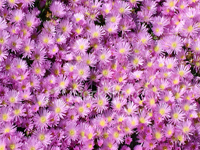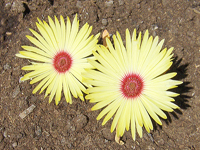 As there are a number of small runoffs we needed a plant that would stabilize the banks. We chose pigface for this purpose as it is an evergreen succulent that has a great show of flowers.
Osteospermum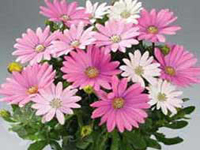 Along the walls we will use Osteospermum which while not an Australian native (I think it comes from South Africa) will drape over the walls and is good in a dry environment.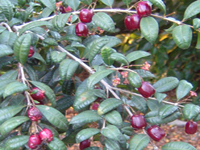 Lastly we will plant some Brush Cherries which is an endangered species here in Australia. This will attract the berry eating birds. They have great flowers and rich red berries.
This is the first round of the garden design. We will need to now concentrate on the side areas and some darker areas around the water tank. Then it is on to doing the vegetable garden. Desiree has also just announced that she would like 3 chickens so I guess a chicken coop will also be required.
---