I was hunting through the cupboards yesterday and I came across our photo albums. I thought that it would be a good idea to publish a couple of photos so that there is some personality to this blog.
This is one of my favourite photos of Desiree. It was taken a few years ago now at a Jazz concert in the Sydney Domain Gardens.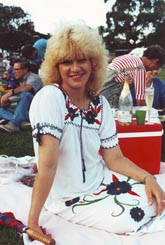 When we arrived at Royal North Shore Hospital the doctors sent Desiree on a barrage of tests to see how severe her stroke had been.
She underwent MRI's, CT Scans and even some Ultrasound tests. I now have more pictures of her inside than I do of her outside.
The results confirmed that she had suffered a significant stoke and that one of the arteries in her neck was still substantially blocked. Her surgeons advice was that he should operate and put a stent into the carotid artery.
He explained that while stenting was common in heart operations it was relatively new for stroke patients. There were probably less than 50 people in Australia who had undergone the operation.
As with all medical procedures there were risks, basically this could kill you if things went wrong, but he advised that without this procedure Desiree would be at a high risk of suffering another stroke.
We signed the release forms and she was scheduled for the operation the next day at 10.00AM. More hurdles to negotiate.