Bathrooms
The bathroom is probably the most important room to get right for the access challenged. Independence and dignity are closely aligned with being able to use the bathroom unaided. The bathroom is also probably the most expensive room to construct and to fit out for its area.
The value of a house can be significantly diminished if the occupants cannot comfortably use the facilities. A successful design will allow access to all of the fixtures and facilities even as the occupants needs change over time.
Bathrooms are complex and there are many regulations that will be need to be considered during the design and construction. A bathroom built using the principals of Universal Design will benefit all users and should add considerable value.
Considerations should be given to:
Allowing enough room for wheelchair access and maneuverings.
Installing a level entry shower.
Strategic placement of grab rails.
Using non-slip flooring.
Installing easy to use taps and controls.
Size is an import factor to consider, generally bigger is better, but there is also a balance between functionality and appearing like an institution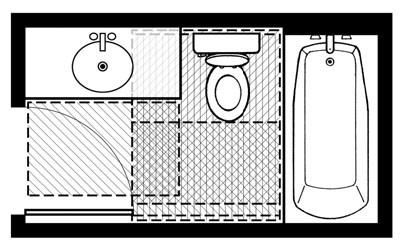 Clear floor space is required at each fixture; however this floor space can overlap.
In addition to meeting the maneuvering space requirements, bathrooms must also meet the other applicable requirements:
• Have usable doors.
• Have an accessible route into and through the unit.
• Have outlets and switches in usable locations.
• Have reinforcing for grab bars at toilets, bathtubs, and showers.
The bathroom needs to be accessible from other parts of the house.